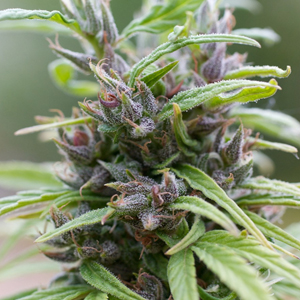 Durban Poison
South Africa
Written by S.T.Oner, Cannabis Sativa vol.1
Sativa
Genetics: Landrace Durban South African
Flowering: 56-63 days
Harvest: September
Yield: 500 grams per plant outdoors
THC: 15%
Much like Australia and New Zealand, South Africa is too often overlooked by the North American cannabis community, which is criminal, as there are a whole host of amazing landrace strains that grow beautifully in that area. Durban Poison is one of the more well known of these, hailing from the Durban region, and though it was popularized in the 70s it still remains the favorite of many to this very day.
Durban Poison makes a wonderful choice for breeding stock, as its wild nature means its genes can be inconsistent from one plant to the next, bringing great variation from which you can select the best phenotypes and then go on to stabilize them; it's the strain that keeps on giving, if you will. As you might expect from a South African plant, it grows best in hotter climates, though it can also be grown in Europe and North America, and can grow as tall as 12 feet outdoors in optimum conditions. Because of this height, and the feral nature of the plant, this is a strain that is better suited to growers with some experience of growing outdoors and the challenges that come with it. Not everyone can manage such a monster of a plant and may find themselves with more Durban Poison than they can take care of! Plants will be fairly leggy, too, and covered with razor-thin leaves, typical of a pure sativa variety. Of course, there is a large payoff when harvest rolls around, with yields of 500 grams per plant not being unusual. The breeders recommend that you treat your harvested buds to a long curing process in order to bring out the best of the taste and the high.
In South Africa, Durban Poison buds are made into 'sticks', which are made by rolling the dried weed in brown paper almost the size of a banana. This is also known as a pencil and can be thought of as some sort of super blunt, which must look like some sort of optical illusion when you see one being smoked. They must be pretty hardcore tokers over there because I'm sure a pencil of this strain would have me squirming around on the floor like a piglet with no arms. The taste might be reminiscent of tobacco, but the high definitely is not, with the mad soaring kick taking you off almost instantly. Thankfully your mouth will be too dry to talk much, because you'll be desperate to jabber on like the village idiot for a good few hours.
» Durban Poison Marijuana Seeds

No flash player!
It looks like you don't have flash player installed. Click here to go to Macromedia download page.
** check out our complete library of weed strains